2023 Meeting Dates
the Monday Peer PTSD meetings at Town & Country Diner, Bordentown at 10:00

begin again at
Monday, 9/11/2023
- - - - - - - - - - - - - - - - - - - - -

2023 Calendar posted above

EX Board meetings at 1:00 PM
Chapter Monthly Mtgs at 1:00
- - - - - - - - - - - - - - - - - - - - - - - - - - -
October meetings
Viet Nam Veterans of America
Chapter 899

OFFICERS DIRECTORS
PRESIDENT BILL WEST - 856 313-3909 -TONTO21449@YAHOO.COM

1ST VICE PRES ALAN KIRCHOFF -609 410-1428 - ALAN@VVA899.ORG BRIAN DUMONT -- DOOWOPDM@MSN.COM
2ND VICE PRES DALE WATSON - 609 259-2691 - DMW20@OPTONLINE.NET TONY LAUDICINA -- TLAUDICINA@COMCAST.NET
3RD VICE PRES ORDWAY VAN HEE -609 504-2847- OVANHEE@GMAIL.COM MEL WARING -- WARING82@YAHOO.COM
TREASURER John Lesko 609-790-4759 Lesko@VV899.org

SECRETARY JOHN LESKO -609 790-4759- LESKO@VVA899.COM TED YADLOSKY -- MRY48@YAHOO.COM
SGT OF ARMS Bob Nymick 609 290-3777 bobnymick@gmail.com
JIM DIXON -- JDIXONSR@COMCAST.
CHAPLAIN BILL CARLIN WDCARLIN@YAHOO.COM 609 790-4210 AVVA REPLyn West -- AVVA--LynWest@VVA899.ORG

TOP left-Ordway VanHee introduces the Scholarship Award Winners for 2023, who are both shown reading their Essays at the Chapter Meeting, 6/24/2023.
This year again, VVA899 was able to award 2 $ 2,000 Scholarships. This year, the awards were awarded, for what may possibly be the first time ever, two two Chapter Members Grandchildren. Best Wishes to both award winners.
E Board
Left to
right:
Jim
Ted
Bill
Alan
Van
Bill
Bob
Lyn
John
Brian
Tony
Dale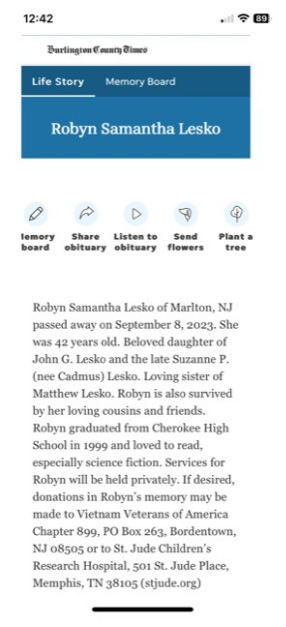 7/15/2023 Summer Picnic VVA899
(Links are at Burlington Times)